Unlock the Power of Microsoft SharePoint
Your Simplified Intranet Solution
The untapped potential of your Microsoft ecosystem! Elevate collaboration and productivity with our SharePoint Intranet Package tailored for companies ready to maximize the power of their Microsoft suite.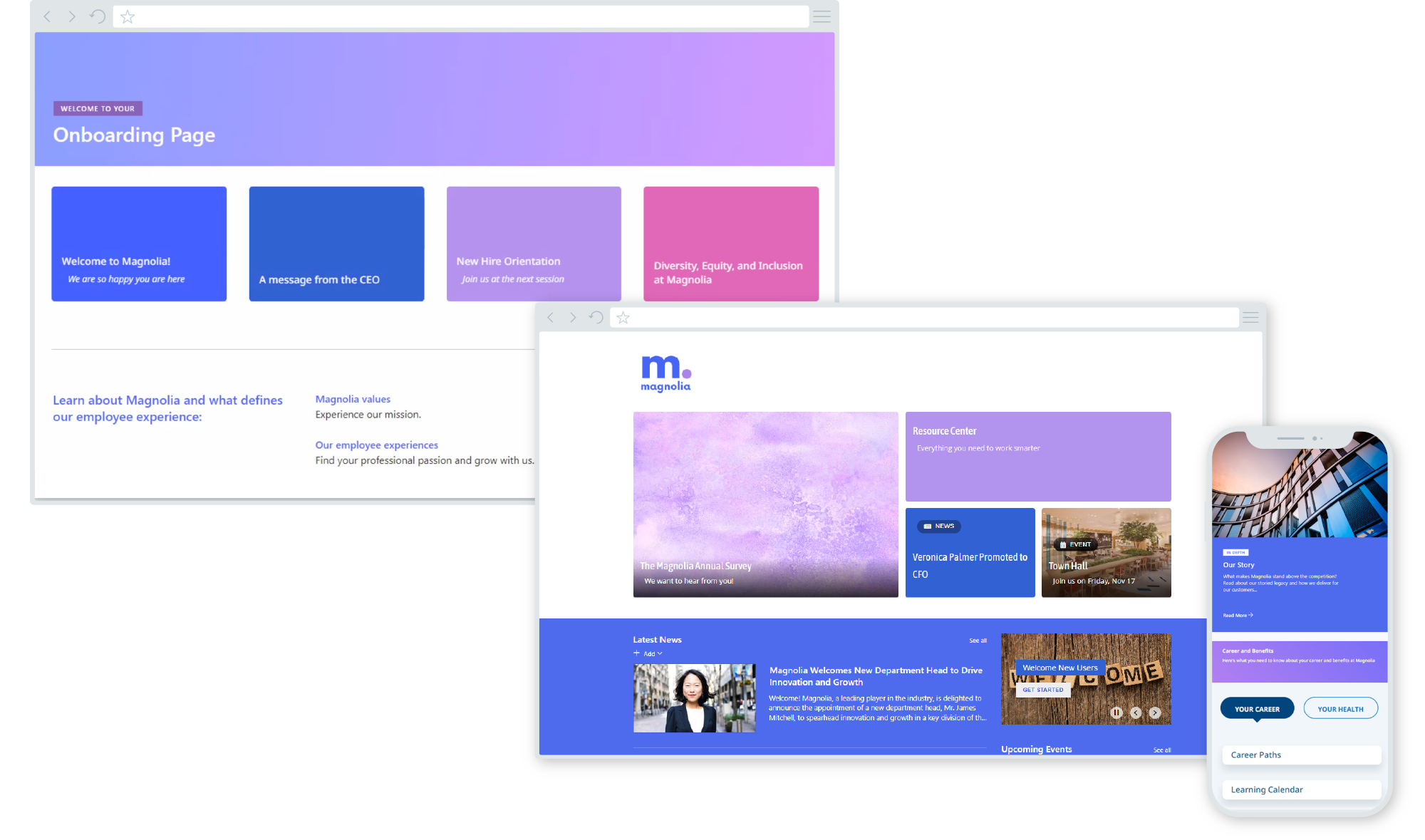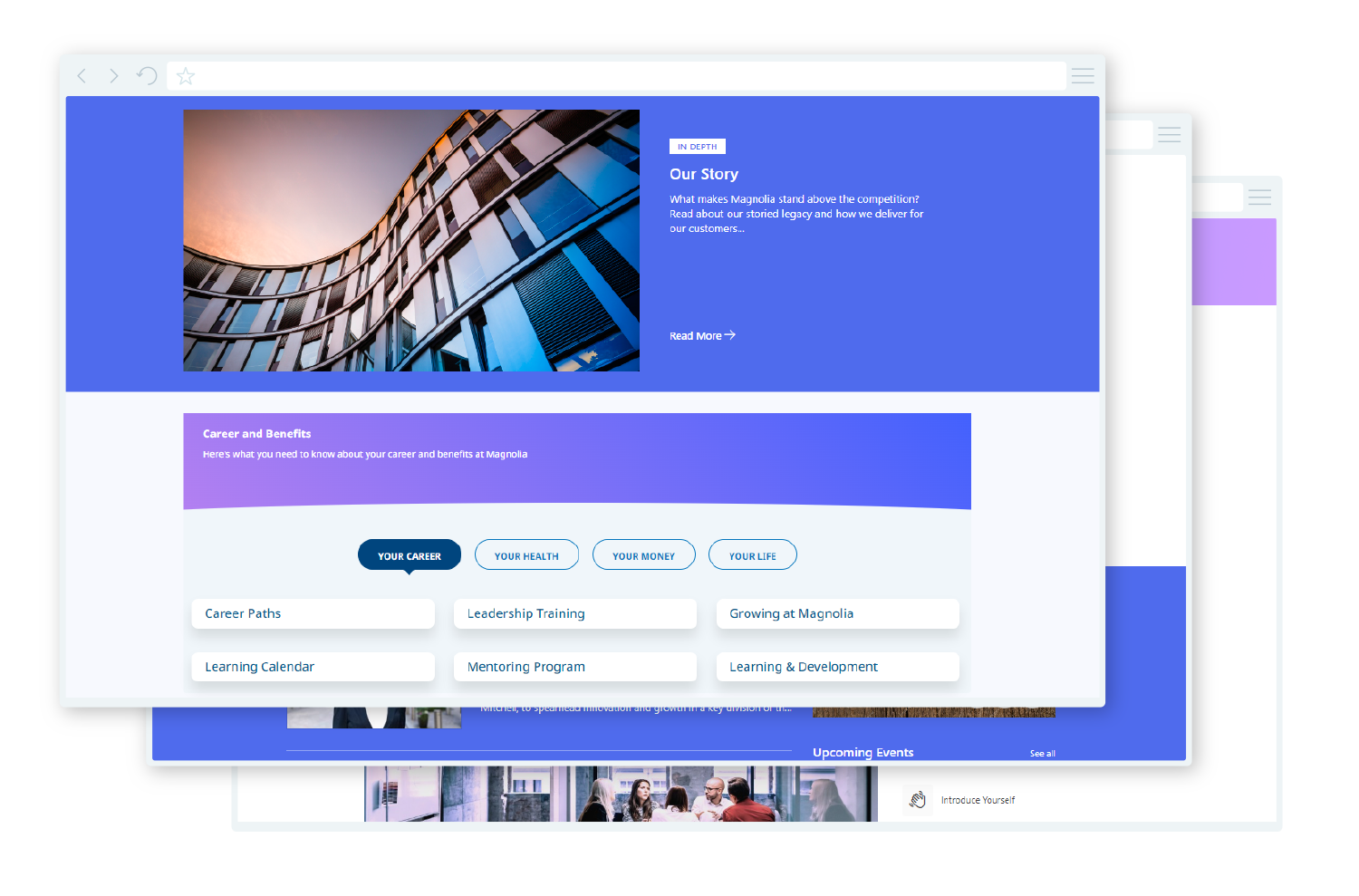 Our SharePoint Intranet Package Solution is your ultimate companion on this journey, making intranet management a breeze
Say goodbye to the intricacies and tech headaches – we've done the heavy lifting for you. With pre-configured solutions and expert guidance, you'll have the tools to optimize your intranet effortlessly. From streamlined site architecture to visually stunning page templates, custom web parts, and seamless Teams integration – our package unlocks the full potential of SharePoint and Microsoft 365. Plus, it does away with the complexities and costs of third-party tools. It's not just about elevating your intranet; it's about elevating your entire business experience.
YOUR INTRANET'S FOUNDATION
Design a flexible and intuitive site hierarchy and taxonomy that ensures your content is easily findable, your governance is seamless, and your intranet aligns perfectly with your organization's goals. Includes visual representations of your architecture and set-up of site structure and metadata fields.

Benefit: A solid foundation ensures a well-organized intranet, making it effortless for your team to access and manage content effectively.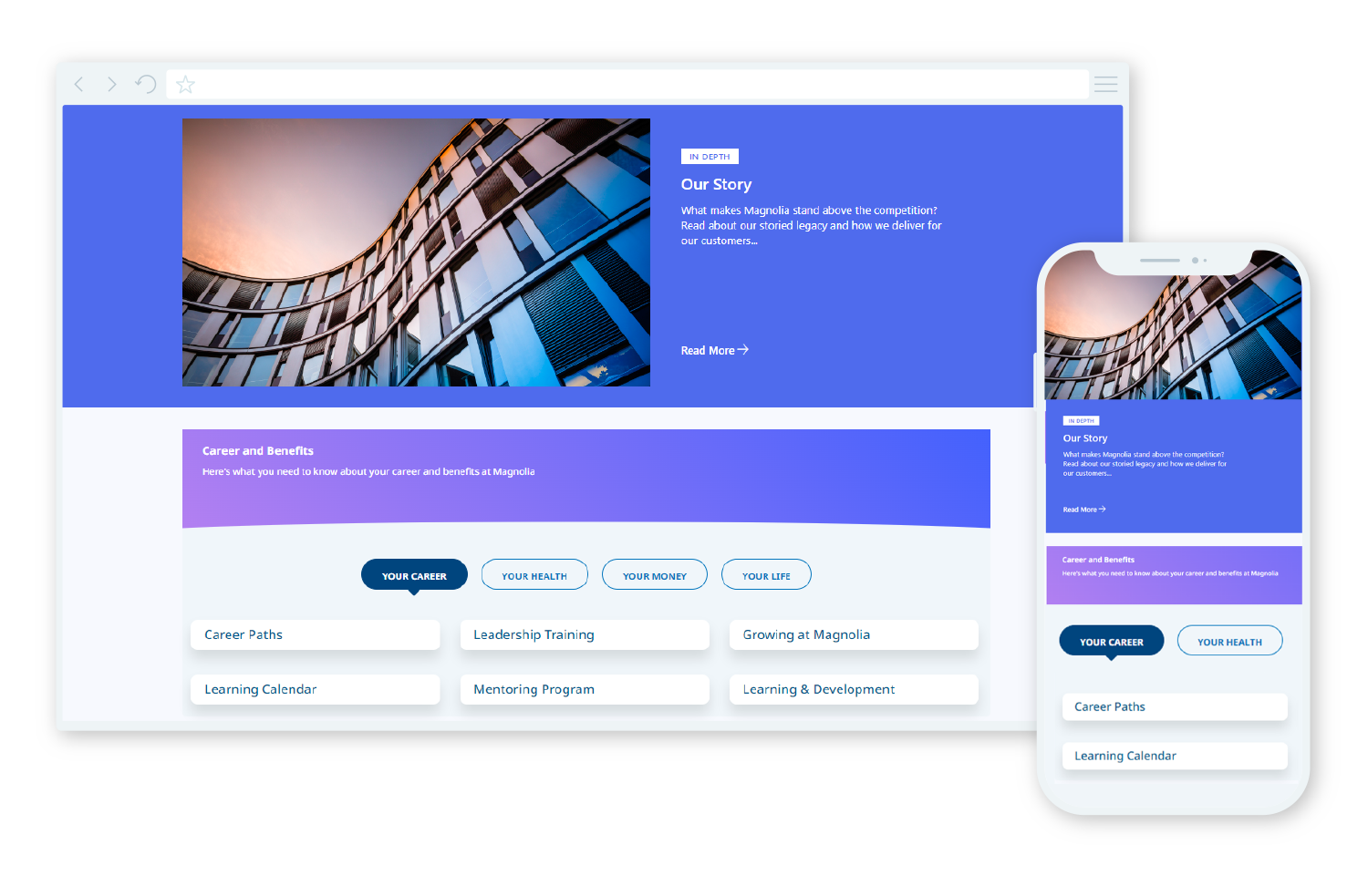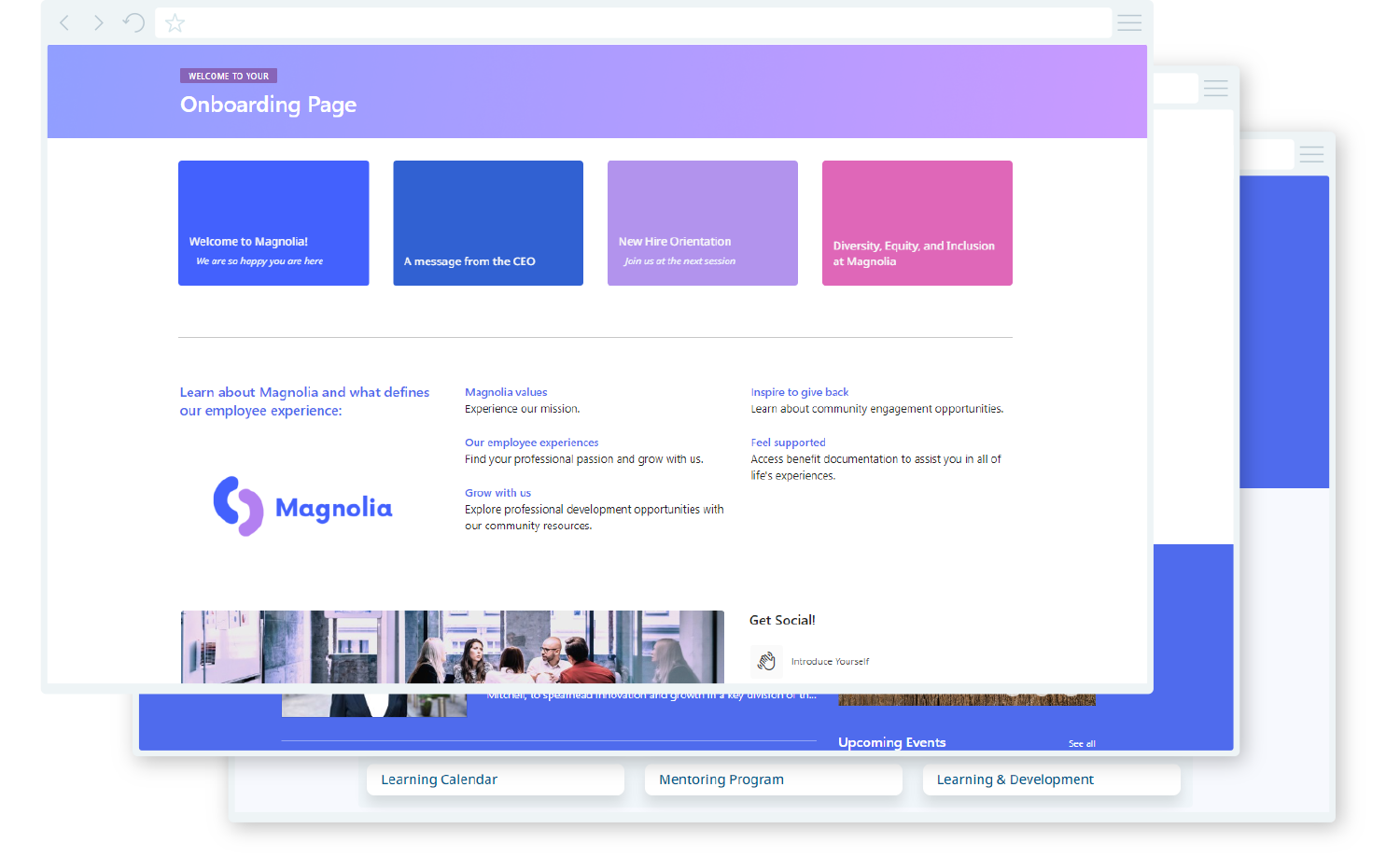 Access three homepage layouts and five interior page templates optimized for common business uses such as department sites, news, and events. Each template comes with web parts for added functionality while adhering to your branding standards.

Benefit: Present your content professionally and consistently, enhancing user experience and promoting your corporate identity.
YOUR INTRANET'S CUSTOMIZATION KIT
Customize your intranet with tailored web parts designed to meet your specific business needs. These include Mosaic, Accordion, Content Quadrant, Slider, and Image Gallery, adding extra interactivity and functionality to your pages.

Benefit: Tailor your intranet to match your unique requirements without complex development, making it more engaging and useful for your team.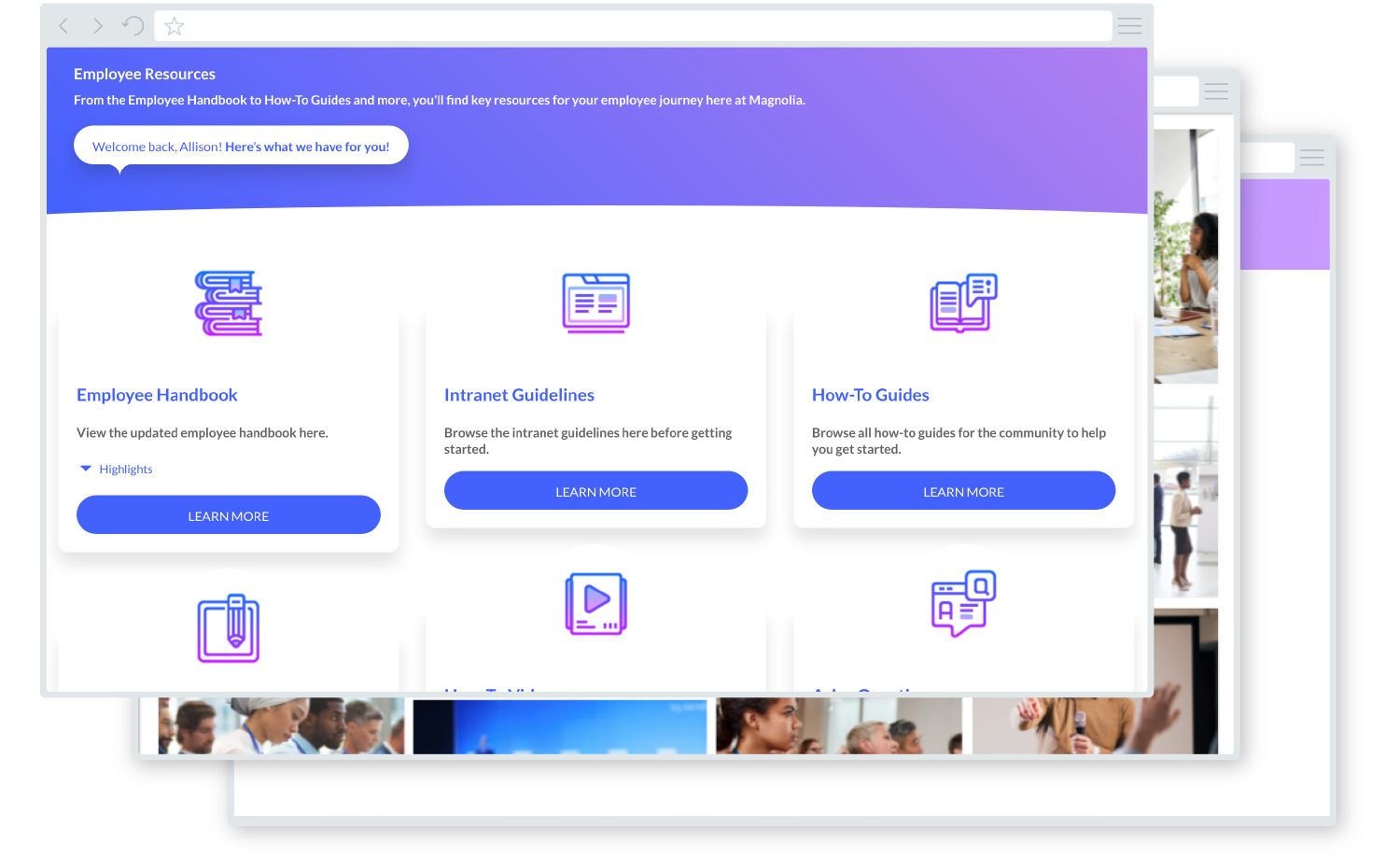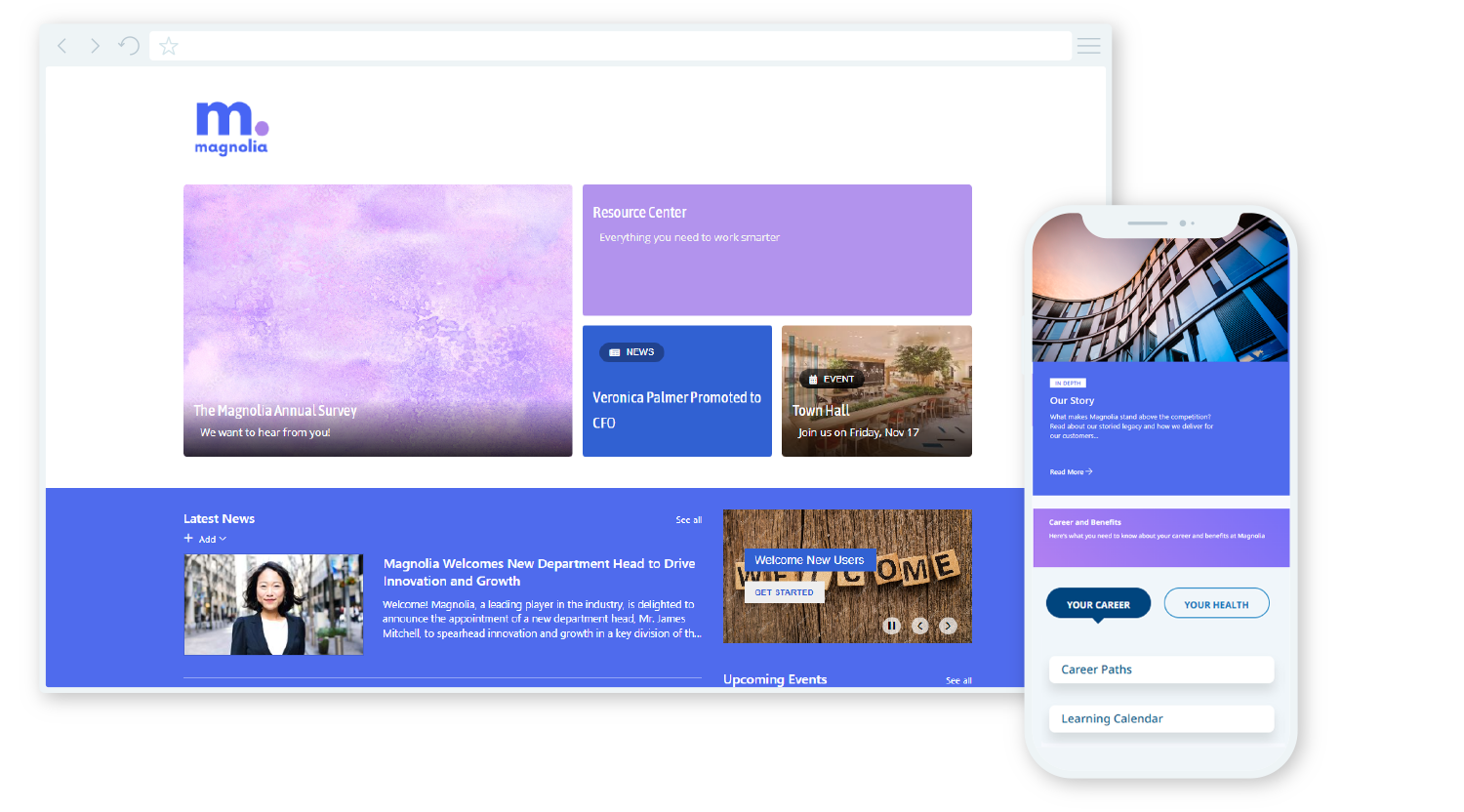 YOUR INTRANET'S COLLABORATION HUB
Access Teams site templates optimized for common uses, such as department sites and project sites. These templates come with pre-configured tabs like Posts, Files, Wiki for department sites and Project Board, Notes, Planner for project sites. The templates also maintain the SharePoint site design and branding standards.

Benefit: Seamless integration between Teams and SharePoint enhances collaboration and communication, streamlining project and departmental workflow.
YOUR INTRANET'S AUTOMATION ASSISTANT
Power up your intranet with Power Automate scripts that automatically trigger processes and notifications based on SharePoint activity. Functions include notifying you when a new item is added to a list or library, starting an approval workflow for new items, and delivering a daily digest of site activity.

Benefit: Automation simplifies your workflow, saving time and reducing manual tasks, while keeping everyone informed and updated.
Each component of our SharePoint Intranet Package Solution is meticulously designed to elevate your intranet's functionality and efficiency, allowing you to simplify management while enhancing productivity and collaboration across your organization.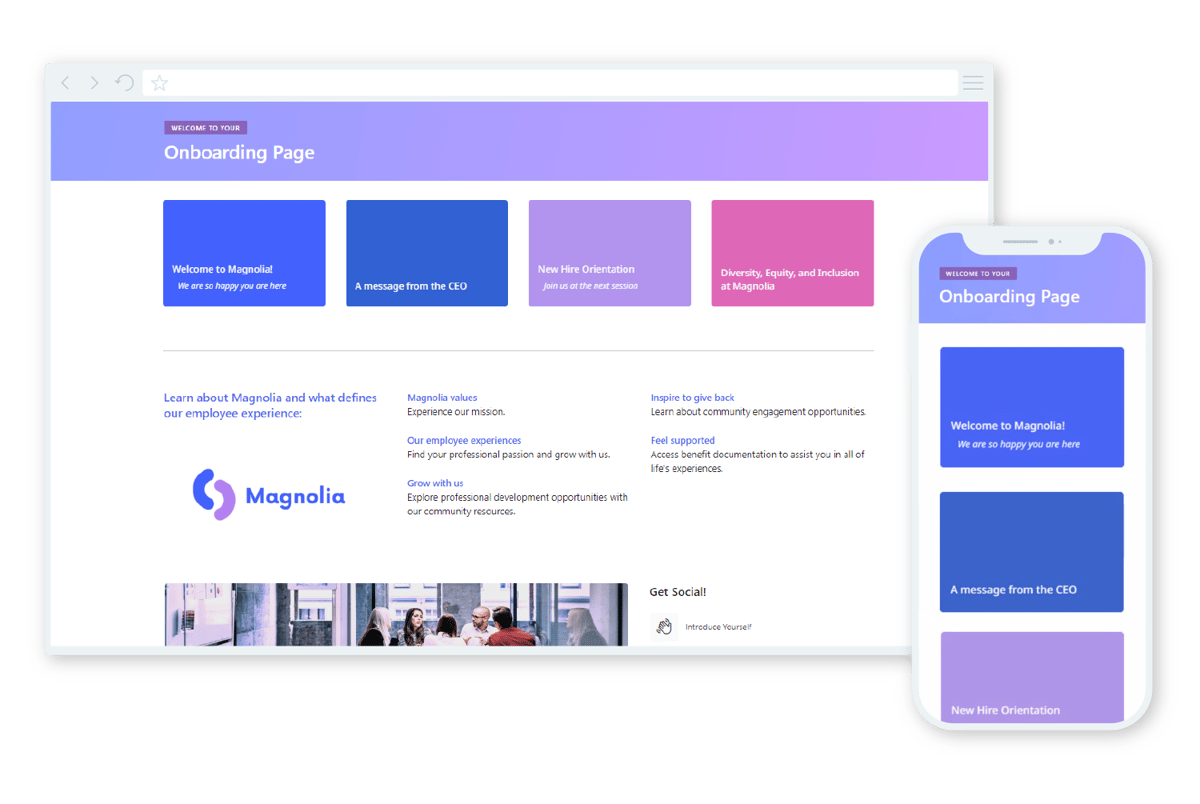 | | | |
| --- | --- | --- |
| Features | Description | Items |
| Site Architecture | Design site hierarchy, taxonomy, content types, metadata fields. Create visual architecture diagrams. | Architecture diagrams, taxonomy, content types, metadata fields, setup checklist. |
| Page Design Templates | Create 2 homepage layouts and 3 interior page templates for common business uses. | Homepage and interior page templates and mockups. |
| Web Parts Configuration | Configure 5 standard web parts tailored for business uses. | Configured web parts. |
| Teams Templates | Create 3 Teams site templates integrated with SharePoint sites. | Teams site templates. |
| Power Automate Scripts | Create Power Automate scripts to enable process triggers and notifications based on SharePoint activity. | Power Automate scripts included automatically update data and eliminate repetitive work to improve efficiency and reduce errors. |
SharePoint made easy – your intranet journey awaits
SharePoint Intranet Solution 2023 Pricing Options
Discover the power our SharePoint Package with our limited-time promotional pricing!
| | | |
| --- | --- | --- |
| Number of Users | Annual Cost ($12/user/year) | Annual Promotion Pricing |
| 250 | $3,000 | $1,500 |
| 500 | $6,000 | $3,000 |
| 1000 | $12,000 | $6,000 |
| 2500 | $30,000 | $15,000 |
| 5000 | $60,000 | $30,000 |
| 7500 | $90,000 | $45,000 |
Try it yourself and book a demo
Frequently Asked Questions
What is SharePoint, and why do I need it for my intranet?

SharePoint is a Microsoft platform that provides various tools for collaboration, content management, and intranet development. It's highly suitable for creating robust intranets that connect your organization and streamline work.
Is this package suitable for my small business or only for larger enterprises?

Our package is designed to cater to organizations of all sizes. We offer a range of features that can be tailored to meet the specific needs of small businesses, mid-sized companies, and large enterprises.
What level of customization is possible with your package?

Our package offers a high level of customization. You can tailor the intranet to match your branding, content, and functionality requirements. We provide templates and pre-configured solutions, but you have the flexibility to make it your own.
How does the integration with Microsoft Teams work, and why is it beneficial?

Our package efficiently integrates SharePoint with Teams, promoting updates and communication between Sites and related Teams channels. This integration uses web parts in SharePoint and tabs in Teams to tie activity and discussions between Sites and channels, giving the employee a more seamless experience.
Can I migrate my existing intranet to your solution, or do I need to start from scratch?

Yes, you can migrate your existing intranet to our solution. We provide guidance and support for data migration, ensuring a smooth transition.
Is technical expertise required to set up and manage this intranet package?

While technical knowledge can be beneficial, our package is designed to be user-friendly and comes with expert guidance. You don't need to be a tech expert to set up and manage it effectively.
What kind of support and assistance do you provide for customers during and after setup?

We offer comprehensive support to our customers. This includes guidance during the setup process, best practices, and ongoing assistance to address any questions or issues that may arise.
How does the pricing structure work for your SharePoint Intranet Package Solution?

Introducing our exclusive promotional pricing for this cutting-edge offering – where innovation meets affordability in the perfect synergy! Dive into the pricing details above and witness a seamless blend of top-tier quality and budget-friendly brilliance. Upgrade your journey without the hefty price tag.
What is the process for upgrading or scaling the intranet package as our organization grows?

Our intranet package is designed to scale with your organization. We can work with you to adjust the package as needed to accommodate growth.
Social Edge Consulting, LLC 12 S. Main Street, Suite 272, Allentown, NJ 08501-9998